Cuban President Raul Castro bid farewell Sunday at the José Martí International Airport to His Holiness Kirill, patriarch of the Orthodox Church of Moscow and All Russia, who complimented here an official four-day visit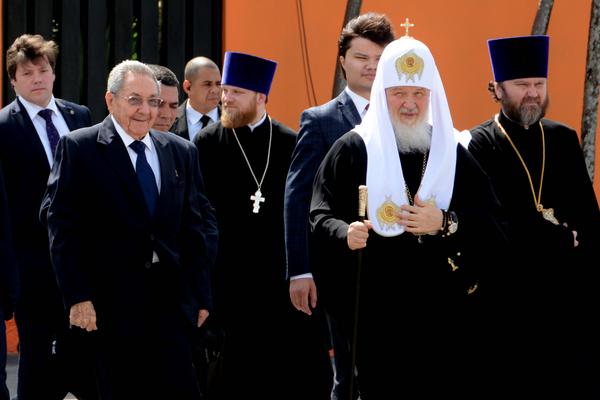 Before leaving the country, Kirill and Raul Castro hugged and talked briefly.
The Russian patriarch will now travel to South America, in the continuation of a tour that will also take him to Paraguay and Brazil.
Earlier, Kirill celebrated a divine liturgy at the Cathedral of Our Lady of Kazan, located in Avenida del Puerto, in Havana, building inaugurated on October 19, 2008.
Raul Castro also attended the ceremony.
During the religious ceremony, the Primate said that he will continue praying for Cuba and the development of its people, welcomed the emergence of new models in the Cuban economy and expressed satisfaction with the high level of relations between the state of the Caribbean nation and Catholic Church.
Addressing Cuban President Kirill said he will continue praying for the Caribbean nation, for its president and the historic leader of the Cuban Revolution, Fidel Castro, whom the Patriarch visited yesterday.
In his four-day official visit to the Caribbean nation, Kirill fulfilled a comprehensive program that included a meeting on Friday with Pope Francis, the first in history among the leaders of the Russian Orthodox Church and the Catholic Church.
Kirill and Francisco signed a joint declaration in which they addressed issues of politics and religion today, and called on the international community to unite to end violence and terrorism.
Patriarch's agenda also comprised official talks and exchange of gifts with Raul Castro, who received him at his arrival on the island and was present during the signing of the joint document with the Supreme Pontiff.
The president awarded yesterday the leader of the second largest Christian church in the world with José Martí Order, the highest decoration awarded by the State Council of the Republic of Cuba.
According to a statement, during a courtesy visit, Fidel Castro had words of praise for the leader of the Russian Orthodox Church for his important contribution to the strengthening of friendship between the Russian and Cuban peoples and dissemination of the values that unite them.
They also talked about issues of concern related to the cause of the poor, fighting discrimination, preservation of peace and human survival.
On Saturday morning, Kirill made a touching visit to the special school Solidaridad con Panama (Solidarity with Panama), which he described as a sacred place where children are examples to others.
The stay of The Primate in Cuba also included a tribute to Soviet internationalist soldier in the Mausoleum erected on the outskirts of the capital, and another to the Cuban National Hero, José Martí (1853-1895), in the sculptural complex that honors him in the Revolution Square.