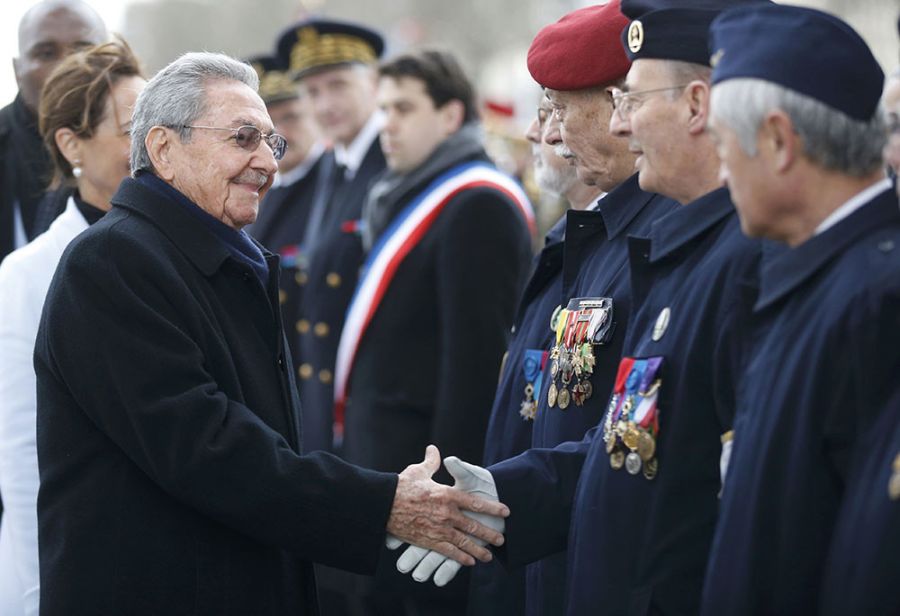 Cuba President, Raul Castro, was received today with an official ceremony at the Arc de Triomphe in the French capital, at the beginning of a two-day state visit to this country.
During the ceremony, in the presence of the French Minister of Ecology, Sustainable Development and Energy, Ségolne Royal, the traditional wreath at the Tomb of the Unknown Soldier was carried out. The national anthems of both countries were also performed.
Cuban President Arrives in Paris for First State Visit to France
Near the Arc de Triomphe, members of organizations of solidarity with Cuba gathered, and flags of the island were flied.
Raul Castro is meeting today afternoon with Head of State, François Hollande, at the Elysee Palace. After the meeting, the signing of bilateral agreements and a joint press statement by the two presidents is expected.
Subsequently, a dinner in honor of the Cuban president is on the agenda.
The Cuban president will meet tomorrow successively with UNESCO's Director General, Irina Bokova; President of the National Assembly, Claude Bartolone; Senate President, Gerard Larcher; Paris' Mayor, Anne Hidalgo; and Prime Minister, Manuel Valls; according to information disclosed.
After those meetings, Raul Castro will visit the Museum of Man, whose restoration was recently completed.
The head of State leads a delegation made up of Council of Ministers Vice President, Ricardo Cabrisas; Foreign Minister, Bruno Rodriguez; and Minister of Foreign Trade and Foreign Investment, Rodrigo Malmierca.
Deputy Foreign Minister, Rogelio Sierra, and Cuba's ambassador to France, Hector Igarza, also comprise the delegation.
Cuban and French authorities have reiterated the existence of a more favorable context to deepen bilateral relations.