Two hours after opening more than 14,000 voting centers, the parliamentarian elections in Venezuela are in progress in total normalcy, asserted today the National Electoral Council (CNE).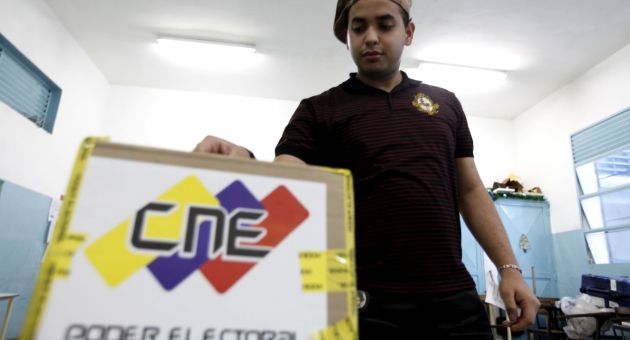 The top authority of that ruling center, Tibisay Lucena, reported on the vote progress and asserted that with the opening of more than 40,000 voting tables at 6:00 hours, local time, 100 percent of the technological platform was activated, without reports on irregularities.
According to Lucena, the process in which 799 candidates that represent the left-wing organizations of the Grate Patriotic Pole and the opposition Democratic Unity Roundtable started peacefully and at a quick pace.
With their votes in these elections, more than 19.4 million Venezuelans will decide in 87 circuits, 23 states and Distrito Capital the members of the new National Assembly, with 167 seats, including three indigenous positions.
The parliament will be established on January 5, for a period of five years, said Lucena, who also said that the results would be announced today.
Venezuelan Foreign Minister Rejects Media Campaign
The Minister of Foreign Affairs of Venezuela, Delcy Rodríguez, rejected today the media campaign against her country, imposed from centers of international power to discredit the electoral system of the South American country.
After she exercised her right to vote in parliamentary elections in the educational unit Padre Mendoza, in the parish El Valle, of Caracas, Rodriguez stated that transparence and massive participation of the electorate is noticed.
Rodríguez remembered that more than 130 international accompanists are there, to verify the safety of this system, for which in this occasion the Venezuelans will decide the composition of the new Legislative, of 167 benches, three for indigenous natives.
All the accompanists see the truth of Venezuela and that way, the media campaign against Venezuela breaks, the campaign of these international media, which has not anything in common with what it is happening in the nation.
In Venezuela, she said, the people is in electoral holiday exercising its right to vote.
Also, she was grateful for the work by the mission of accompaniment of the Union of South American Nations (Unasur), which there heads the Dominican ex-president, Leonel Fernández.
According to reports, the mission of Unasur will present about 13 reports on the parliamentary elections, including a preliminary document delivered Monday morning to the National Electoral Council with a qualitative balance of the day.
About the media crusade against Venezuela, the campaign manager for the leftist organizations forming the Democratic Roundtable Pole, Jorge Rodriguez, called on informative media such as the Spanish newspapers El Pais and ABC, as well as the US television network CNN.
He also criticized that the new opposition offensive is fraudulent, and the voice of the people is expressed through voting, and there is only the voice of the international power centers or some media that stand in censors of Venezuelan democracy.