The countries of the Central American Integration System (SICA) hold today in San Salvador their 46th Meeting of Heads of State and Government in order to strengthen ties of cooperation.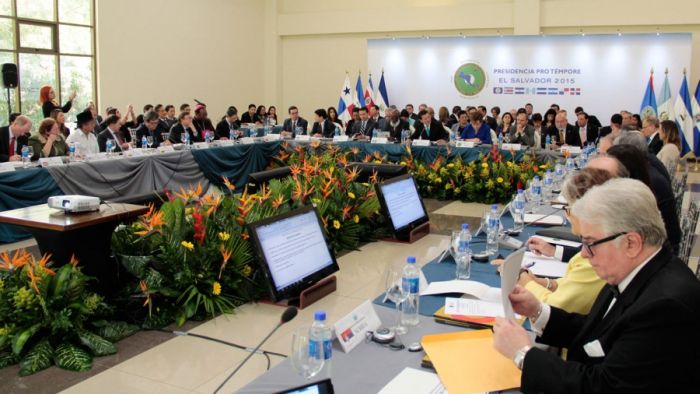 Secretary General of SICA, Victoria Velásquez said that the mechanism is a common space that 'has slowly given way to a harmonious path of inclusion and building of community institutions'.
Throughout its history, the integration has been a means by which we could build consensus and overcome common challenges and I am sure that if we maintain our confidence in it, it will remain this way, she said.
The Salvadoran Foreign Minister Hugo Martínez also expressed his conviction that 'with determination and effort, we can all continue to work on building a harmonious integration'.
'The ideals of development, peace, democracy and freedom that unite us as free people keep reflecting in each of the member states of SICA, while this path consolidates and generates benefits for our people, which is ultimately to whom we owe it', stressed the head of the Salvadoran diplomacy.
The SICA was created on December 13, 1991 by Costa Rica, El Salvador, Guatemala, Honduras, Nicaragua and Panama. Later joined as full members Belize in 2000 and the Dominican Republic, in 2013.
At the summit this Friday, El Salvador will deliver the pro tempore presidency of the mechanism to Honduras, which will exercise it during the first six months of next year.
According to the agenda of the meeting given to the press, the meeting will be opened at 10:10 local time and just over two hours later the signing of a joint declaration will take place, followed by the ceremony of transfer of the pro tempore presidency.
In one of its first results, the SICA countries and Chile signed on Thursday a memorandum of understanding for the establishment of the Forum for Political Dialogue and Cooperation with the aim of strengthening ties between the parties.
Foreign Minister Martínez said in the act of signing that Chile has been a key partner in some regional projects, such as the Central American Security Strategy (ESCA, in Spanish).
His counterpart in Chile, Heraldo Muñoz, said his country is interested in strengthening ties with the Central American isthmus, so the creation of 'this forum is of great satisfaction, is a clear mandate to facilitate political dialogue, trade and investments'.
The foreign ministers of the countries of SICA also held a meeting yesterday with representatives of 27 observer countries of the system, to which Serbia joined.