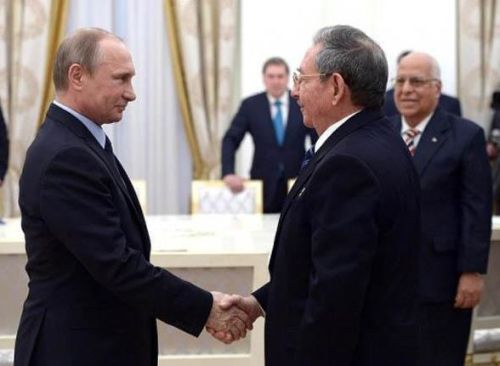 Russian President Vladimir Putin examined today with his Cuban peer Raul Castro issues of the bilateral political, economic and trade agenda, according to reports from the Kremlin press service.
According to the source, the two statesmen are analyzing the prospects of cooperation for new agreements in several fields of collaboration, and exchange views about the regional and international situation.
Russian Prime Minister Welcomes Visiting Cuban President Raul Castro
Cuban President Begins Official Visit to Russia
President Raul Castro arrived in Moscow on May 5 to comply with an invitation by his Russian colleague to the celebrations for the 70th anniversary of the victory over fascism, on May 9.
During the meeting held yesterday with Prime Minister Dmitri Medvedev, the Cuban statesman said "I could not miss this celebration for the 70th anniversary of this victory for our great friendship, preserved, and the ties between our peoples."
They testify the exchanges of regular visits, even to the highest level. Putin visited the island in 2000 and in the summer of 2014, as well as a visit held in 2008 by Dmitri Medvedev, as a president in that time.
Raul Castro also carried out an official visit in 2009, after 25 years of absence, and a working stay in 2012. The two governments signed in January 2009 a memorandum on the principles of strategic partnership.
Moscow and Havana will celebrate on May 8 the 55th anniversary of the re-establishment of diplomatic relations.
According to the text, the official program of the Cuban president also includes a lunch on behalf of the host head of State, on May 8, and the laying of a wreath at the Tomb of the Unknown Soldier, at the foot of the Kremlin Wall, shortly before the military parade at the Red Square.
President Raul Castro will be present at the tribune, along with other foreign leaders, invited to the central ceremony for the victory, to which heads of international agencies such as United Nations and UNESCO, and regional organizations will also attend.
The current visit is carrying out in the context of the successful celebration of the special session of the Inter-governmental Commission for the Economic-Commercial and Scientific-Technical Collaboration, held in Kazan, on April 22, and resulted in a dozen documents sealed in many fields of cooperation.
Vice President of the Council of Ministers, Ricardo Cabrisas, Foreign Minister Bruno Rodriguez, Army Corps General Leopoldo Cintra Frias, and Minister of the Revolutionary Armed Forces, and ambassador to Russia, Emilio Lozada are part of the official delegation.