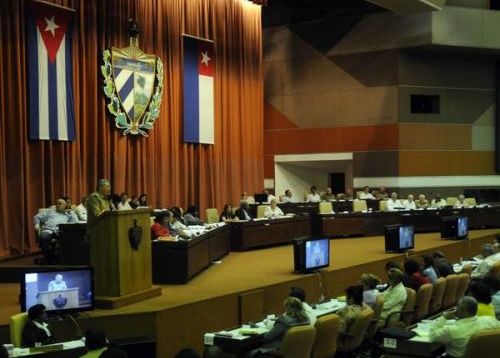 Cuban President Raul Castro delivered the closing address on Wednesday of the 5th Period of Ordinary Sessions of the 8th Legislature of the National Assembly of People's Power.
The Cuban head of State said that it the tendency of deceleration of the economy has been reversed, yet it's necessary to work harder and with more discipline in order to achieve further results.
7th Cuba Communist Party Congress Summoned for 2016
Book on Raul Castro Presented in Parliament Session
In his speech, Raul Castro also reiterated the Cuban solidarity with the governments of Venezuela, Ecuador and Brazil.
"I must reiterate our solidarity with the Bolivarian Revolution and the Government led by President Nicolas Maduro against destabilizing attempts and any act of internal interference", said Raul Castro as he closed the plenary session of the Fifth Ordinary Period of Sessions of Parliament.
He welcomed the results of the primary elections of the United Socialist Party of Venezuela and denounced the destabilizing campaigns against the Government of President Rafael Correa and the Citizens' Revolution in Ecuador.
The Cuban president also assured Wednesday that Cuba will keep on fulfilling its internationalist duties, if possible, just as thousands of Cuban citizens do in different nations of the world. He said that assistance will continue "under the principle that those who can afford collaboration, do so, and those which do not have resources, we will continue to help them".
Finally, Raul referred to the resumption of relations between Cuba and the United States saying that on July 20 the diplomatic relations will be officially re-established and embassies will be open in the two capitals.
"A first stage of the process started on December 17 will end on that day and a new long and complex stage in the road to normalization will start", he said.
He recalled the Declaration of the Revolutionary Government on July 3 saying that as long as the economic, commercial and financial blockade is in force it is impossible to conceive normal relations between Cuba and the United States.
It will take willpower to find solution to problems accumulated for over five decades that affect the links between our countries and peoples, said Raul Castro.
The Cuban president said that to normalize bilateral links it will also be necessary to give back to Cuba the territory illegally occupied by the Naval Base of Guantanamo and to end illegal radio and television broadcasting to Cuba and eliminate the programs aimed to promote subversion and internal destabilization, and to compensate the Cuban people for human and economic damages caused by the US policies.
The revolutionary government is willing to advance in the normalization of relations, certain that the two countries can cooperate and coexist in a civilized way, in mutual interest, beyond the differences we have and will have, and contribute with it to peace, security, stability, development and equity in our country and the world.
(With information from PL and RHC)