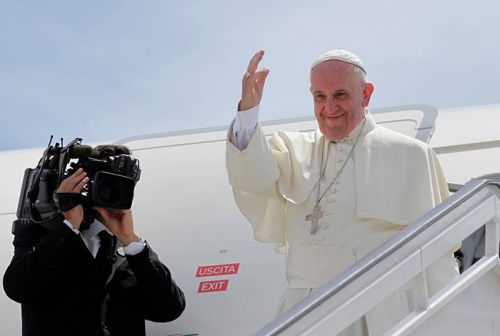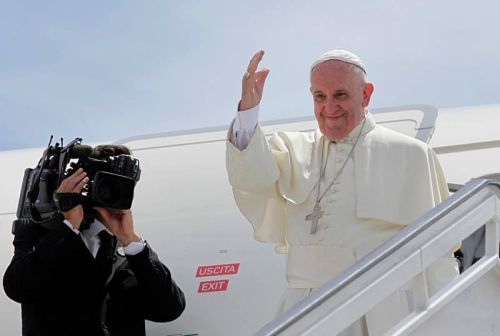 Raul Castro Ruz, president of the Councils of State and Ministers, bid farewell to Pope Francis at Santiago de Cuba's International Airport "Antonio Maceo" after four days of His Holiness stay in Cuba, where he held Masses in Havana, Holguin and in the Sanctuary of Our Lady of Charity of El Cobre.
Pope Francis in Santiago de Cuba: The Church Should Build Bridges
Pope Francis Celebrates Holy Mass in Santiago de Cuba
Photo Gallery: Pope Francis's First Visit to Cuba
After the cordial dialogue between the two heads of State, and a farewell ceremony with the solemnity of the occasion, government and ecclesiastical authorities of both delegations exchanged greetings.
At about midday on Tuesday, the Pope, whose departure leaves deep sympathy among Cubans, boarded the Alitalia plane that leads him to Washington. With flags of Cuba and the Vatican on the front, the flight left at noon on September 22nd.

Besides the capital of the United States, the tenth tour of Pope Francis after leaving Cuban soil will take him to the cities of New York and Philadelphia.
He will also meet with President Barack Obama and will be the first Pope to ever speak before the United States Congress in a joint session of the Senate and the House of Representatives.
The Holy Father will also attend the upcoming session of the UN General Assembly and take part in the World Meeting of Families.