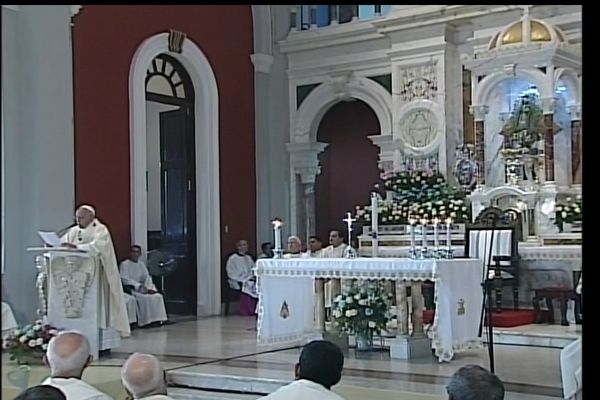 When celebrating the Holy Mass this Tuesday morning at the Minor Basilica of the Shrine Our Lady of La Caridad del Cobre, the Bishop of Rome said he wanted a church to come out of the temples to accompany life, sustain hope, accompany all the embarrassing situations of our people, committed to life, culture, society.
He stressed that the Church should sustain unity, build bridges, break walls, sow reconciliation and engage, to serve them, in others' life.
Pope Francis Celebrates Holy Mass in Santiago de Cuba
Photo Gallery: Pope Francis's First Visit to Cuba
He called to have the heart and eyes always open to others, meet others to share joys and sorrows, hopes and frustrations, visit sick people, prisoner, those who cry and those who also know to laugh.
He noted that the Cuban lands were visited in the presence of the Virgin Mary and the country grew as part of the devotion to Our Lady of La Caridad del Cobre and from Santiago de Cuba, she custodies roots, and pure identity.
The mass was attended by Cuban President Raul Castro, who was also present in the two previous masses held by the Bishop of Rome in the cities of Havana and Holguin. Leaders of local government, the party, the Catholic Church, and other religious representatives also attended the liturgical ceremony, along with Catholics from several Cuban provinces and from other countries.
 With information from PL