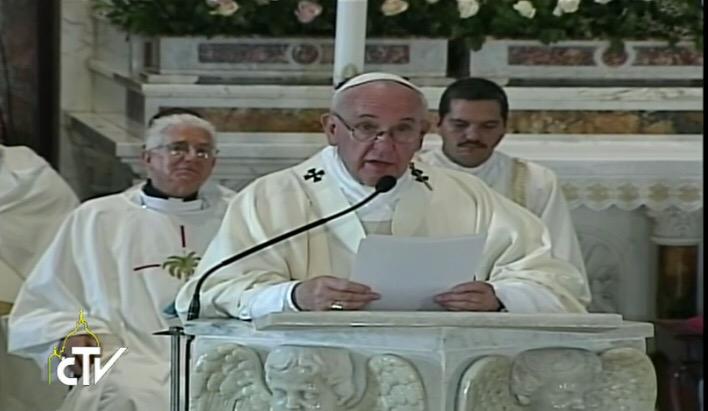 Pope Francis, Missionary of Mercy who's currently visiting Cuba as part of his tenth international trip, celebrated this Tuesday morning the Holy Mass at the Basilica Menor de Nuestra Señora de la Caridad del Cobre, in Santiago de Cuba, where he arrived yesterday night from the city of Holguin.
The mass was attended by Cuban President Raul Castro, who was also present in the two previous masses held by the Bishop of Rome in the cities of Havana and Holguin.
Pope Francis Visits Monument to Pope Saint John Paul II
Photo Gallery: Pope Francis's First Visit to Cuba
Leaders of local government, the party, the Catholic Church, and other religious representatives also attended the liturgical ceremony, along with Catholics from several Cuban provinces and from other countries.
After concluding the mass, it's expected that His Holiness Pope Francis will visit Santiago de Cuba Cathedral, and will hold a meeting with several Cuban families in line with his deep concern about the decisive role of the family in the strengthening of spirituality and values in children and young people.
According to the scheduled apostolic program, Pope Francis will then bless the city of Santiago de Cuba, and will leave for the local Antonio Maceo International Airport, where the farewell ceremony will take place.