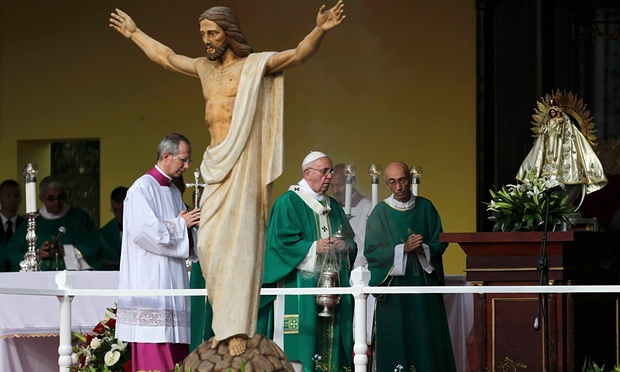 Pope Francis celebrates his first mass in Cuba at Havana's emblematic Jose Marti Revolution Square, with the attendance of President Raul Castro, religious authorities, members of the diplomatic corps accredited to the island, believers, and tens of thousands of people encouraged to listen to the message of hope sent by the Pope to Cuba and to the world.
Havana's Revolution Square Hosts Third Papal Mass
Cubans Welcome First Latin American Pope with Respect and Affection
Argentinian President Cristina Fernandez, who was specially invited to participate in the liturgical ceremony, said it was an honor to be present in the historic event led by Pope Francis, born in the capital of the South American country in 1936.
Residents of Sancti Spiritus, central Cuba, are among the participants in the Holy Mass. They left for Havana Saturday night, in a gesture of respect for the first Latin American Pope.
Upon arrival in Cuba, the Holy Father highlighted the commemoration this year of the 80th anniversary of the establishment of diplomatic relations between the Republic of Cuba and the Holy See, which have been kept without interruption.
"Geographically, Cuba is an archipelago, facing all directions, with an extraordinary value as a "key" between north and south, east and west. Its natural vocation is to be a point of encounter for all peoples to join in friendship, as José Martí dreamed", said the Bishop of Rome, upon arrival in Havana.
According to the program of the apostolic journey, the Pope will pay a courtesy visit to the President of the Councils of State and Ministers, Army general Raul Castro Ruz, and will meet with priests, religious people, and seminarians at Havana's Cathedral. Likewise, he will greet youth and teaching body of Félix Varela Cultural Center.