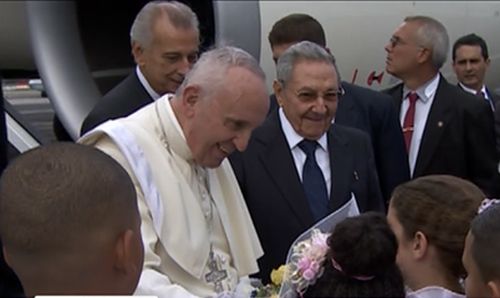 The Cuban people welcome today Pope Francis, a son of Our America whose principles about the need to save the planet and combat inequalities spark off admiration in the world.
The Head of the Catholic Church will fulfill a broad pastoral activities program in the Cuba, where he will say Masses in the cities of Havana, Holguin and Santiago de Cuba, and will pay a courtesy call on President Raul Castro.
Born in Argentina on December 17, 1936, he was elected on March 13, 2013 as the pope number 266, replacing Benedict XVI, who had resigned a few days before.
The first Bishop of Rome, native from the American continent chose his papal name in honor of St. Francis of Assisi, the Italian saint who founded the Franciscan Order and was characterized by his dedication to the poor.
During his tenure, the Pope has worked to stamp a new style of leadership to the Catholic Church and get it closer to the dispossessed.
In several of his speeches he has criticized the economic model that only follows the logic of profits, excludes many and also destroys nature.
"This system cannot stand, it can't be endured by the peasants, it can't be endured by the workers, it can't be endured by communities, it can't be endured by the people nor can it be endured by the land, the sister Mother Land, as Saint Francis used to call her," he said.
The Pope also attracts worldwide attention for his pronouncements against war and in favor of dialogue to solve the conflicts.
Do we realize that something is wrong where so many senseless wars are being fought and acts of fratricidal violence are taking place on our very doorstep?, questioned Pope Francis during a recent tour of Latin America.
The Pope's trip to Cuba is the third of a Supreme Pontiff to the island in the last 17 years and coincides with the 80 anniversary of uninterrupted relations with the Holy See.
'We have worked to make the visit memorable, to make it a visit as Pope Francis deserves due to his pontificate, for his positions that rise admiration in Latin America and the Caribbean and in our people, and for being the first Latin American pope,' said Foreign Minister Bruno Rodriguez.
The Foreign Minister added that the Cuban government is convinced that the trip will be an extraordinary event, for which it has worked harmoniously with the Vatican state with its Nunciature in Havana and with the Catholic Church.
According to the official program, Pope Francis will stay in the Caribbean nation until September 22, when he will be see off from the city of Santiago de Cuba.