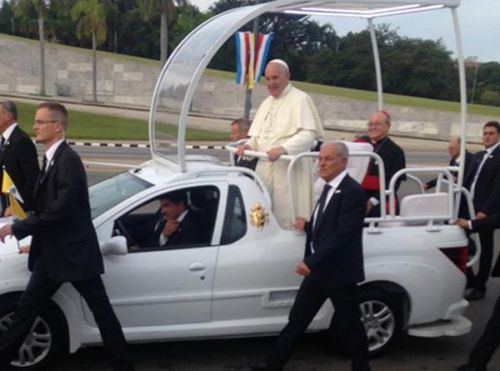 A scenario of relevant mass rallies and parades over the past 56 years, the emblematic Revolution Square in Havana will host for the third time a mass officiated by a Holy Pontiff, in this case, Pope Francis.
On the first occasion, in January 1998, His Holiness John Paul II said mass from that place. The second time was in March 2012, when Pope Benedict XVI led the mass. Today is the turn of Mario Jorge Bergoglio, from Argentina, the successor of Benedict XVI since March 2013, who arrived in Cuba on Saturday to pay a four-day apostolic visit to the Caribbean island, as part of its tenth international tour that will also include the United States.
Pope Francis will say mass with the monument to Cuban National Hero Jose Marti on the right, and the image of his compatriot, Guerrilla Commander Ernesto Che Guevara, on the left. He will also be accompanied by a huge image of Jesus Christ on the façade of the Jose Marti National Library.
Alike on previous occasion, there is mass participation of Catholics from Havana and other provinces, as well as believers of other religions and even atheists and foreigners who traveled to Cuba especially to attend the homily of His Holiness.