The Executive Director of the Major League Baseball Players Association (MLBPA), Tony Clark, assured here that the MLB wants the safe and legal insertion of Cuban players in the main tournament in the USA.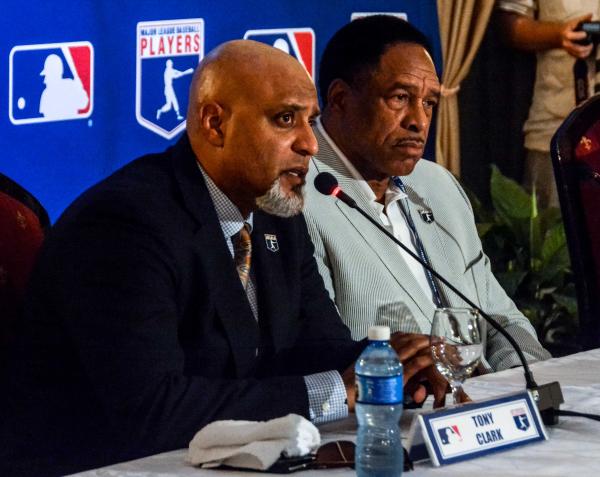 The goal of the Major League Baseball (MLB) and the Union is to negotiate a safe and legal system to allow Cuban players to play in the Major League, Clark told Prensa Latina.
The former first baseman is part of an MLB delegation that arrived in Cuba on Tuesday as part of an academic exchange with the Cuban Baseball Federation (FCB).
Our interest is the wellbeing of the players and the work we are doing now is very hard, it is a very complicated negotiation, but we expect to achieve the best for the two parties, underlined Clark after a press conference at the Vedado Hall of the Hotel Nacional.
Before his statements to Prensa Latina and before dozens of reporters, Clark had said that one of the main objectives of the delegation's visit is to agree on a legal, fluid and natural way, with reciprocal benefits, for Cubans to play in the Major League.
We want to advance in that regard, but, as I said at the press conference, within the law of the two countries. We will talk about it, but I cannot say anything, we are not sure that we will have good results, he added.
He noted that hiring Cuba players by US teams, "with the norms in place in other nations" or through "special licenses", might help a lot in the process of normalization of relations between the two countries.
Clark is accompanied by Joe Torre, the director of Sports Operations of the Major League; Dan Halem, the head of the MLB Legal Office; Dave Winfield, a MLBPA special consultant, and the baseball players Miguel Cabrera (Venezuela), Nelson Cruz (Dominican Republic) and Clayton Kershaw (United States).
Other members of the delegation are the Cuban players who emigrated to the United States José Dariel Abreu, Yasiel Puig, Alexei Ramírez and Brayan Peña; as well as John Jay, who was born in Florida but has a Cuban origin.
The MLB group is on a goodwill tour and, along with former Cuban baseball players, it will organize two clinics for children who play baseball, one at Havana's Latinoamericano Stadium and the other one at the Victoria de Girón Stadium, in Matanzas, 120 kilometers from the Cuban capital.