Argentina's former soccer star Diego Maradona is in Havana to prepare new releases of his TV program De Zurda, said the program presenter himself.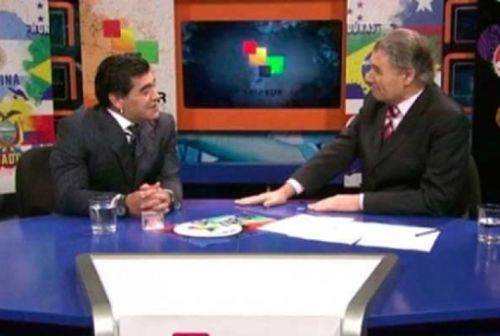 In a promotional announcement issued by Telesur, Maradona invited all Latin American viewers on January 10, when he will reprise the successful program in which he commented the 2014 World Cup in Brazil.
De Zurda is back, with Victor Hugo Morales and Diego Maradona. We will do it from Cuba, Havana. The beautiful Cuba of Fidel Castro, said the legendary Argentinean number 10 before the cameras, drinking an Argentinean traditional drink called mate.
The South American former player, 54, signed a contract in December for a second season of the television program, co-presented by the Uruguayan journalist Victor Hugo Morales, who will accompany him.
Last year De Zurda generated great interest by the comments Maradona made,with his usual casual tone and sometimes, very critical.
Interviewed by the radio station Radio Habana Cuba, Maradona said the German goalkeeper Manuel Neuer is his candidate to win the 2014 Golden Ball against Argentina's Lionel Messi and Cristiano Ronaldo.
Neither Messi, nor Cristiano. My candidate is Neuer. He did more, he deserves more merits, said Maradona about the one he thinks it could be the winner of the distinction for 2014, which will be delivered on January 12.