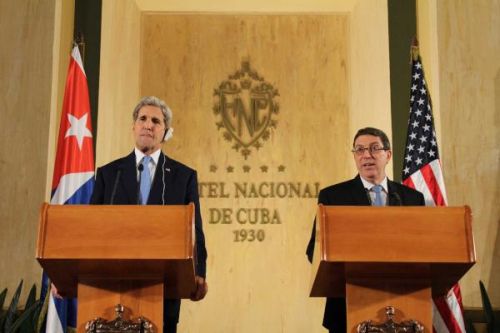 Cuba and the United States today announced the creation of a bilateral commission to advance the process of full restoration of diplomatic relations.
Foreign Minister of Cuba, Bruno Rodriguez, said during a press conference along with US Secretary of State, John Kerry, that in the new era after the restoration of diplomatic ties, they agreed to establish a bilateral commission to define issues to be addressed in the immediate future, including matters pending of solution accumulated for over 54 years.
Cuban Foreign Minister Meets with US Secretary of State
The Cuban foreign minister described the meeting with the US side on bilateral issues of interest to advance the normalization of relations as respectful and constructive.
Both sides, he said, agreed to open new areas of dialogue and strengthen already established mechanisms, and open others in areas such as environment, health, among others.
Rodriguez explained that with the United States 'we have profound differences' on democracy, human rights and diplomacy, among other topics.