Cuban Foreign Minister Bruno Rodriguez met today with the Secretary of State, John Kerry, who is visiting the island in the context of the official reopening of the US embassy in Havana.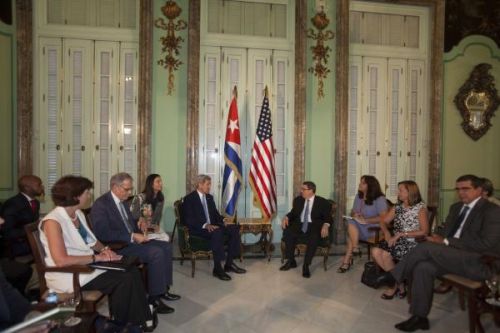 The meeting between representatives of the two countries took place behind closed doors, after which a press conference will be offered at the National Hotel.
On the morning of Friday, Kerry chaired the official ceremony of hoisting the flag of the Stars and Stripes at the US embassy, an event that followed the ceremony by Cuba on July 20 in Washington, which headed by Foreign Minister Rodríguez.
Before hundreds of people and on a highly symbolic act, the Secretary of State was to float the banner of his country, a fact that is part of the process of normalization of relations announced by Cuba and the United States last December 17.
This is the first time in 70 years that a senior US diplomat visited the island since the last official of that rank to do so was Edward Stettinius, in March 1945, under the administration of President Harry S. Truman (1945- 1953).