Authorities are searching for 85 people who were reported missing after a landslide in the south-eastern Chinese city of Shenzhen on Sunday.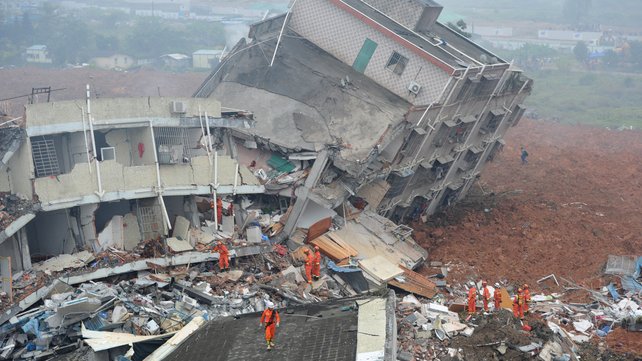 Nearly 3,000 rescue workers are trying to find dozens of residents who are still under the mud in an industrial park in Guangming district, Shenzhen.
On Monday, the local government pointed out that 91 people were still missing, but it corrected that figure to 85 on Tuesday.
The rescue teams include personnel from the Armed Forces, with support from 406 special vehicles, 123 life detectors and 30 trained dogs. Ten doctors from Guangzhou and Beijing were sent to Guangming to assist.
Only seven persons have been rescued so far.
The landslide occurred at 11:40 hours, local time, on Sunday, after a huge mountain of construction wastes collapsed downhill.
Some 900 residents were evacuated, but at least 16, including a seven-year-old boy, were hospitalized. All of them are stable.
The landslide buried an area of 380,000 square meters under 10 meters of mud, affecting 14 factories, two offices, a dining hall, three dormitories and 13 buildings, according to Shenzhen Lieutenant Mayor Liu Qingsheng. It also caused an explosion in a major section of the West-East gas pipe, so fuel supplies to neighboring Hong Kong were interrupted.
The Council of State asked for supreme reinforcements to guarantee a prompt rescue mission.
Chinese President Xi Jinping ordered a high-level response to the landslide, as a result of which 16 people were injured.