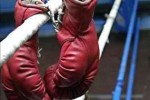 The first match in the quarter-finals of the World Series of Boxing (WSB) between the Wranglers of Cuba and the USA Knockouts team has been postponed to April 11, U.S. organizers said today.
The match, which was scheduled for this Friday at the Hard Rock Café and Casino in Hollywood, Florida, in the city of Miami, will not be held on that date, although officials have not communicated the reasons.
Sources from the Cuban Federation confirmed having received notice yesterday, and detailed explanations are expected in coming hours, although political pressure from the rightwing based in Florida is being mentioned by some media as a possible reason.
The change hurts the Cuban team, which for its excellent performance in the preliminaries had earned the right to host the second match at home, and now will be forced to host the first one rather than the second, on April 4.
Nevertheless, the Wranglers are still the heavy favorites to advance to the semifinals, where they would face the winner of the match between Russia and the Ukraine Otamans.
In the initial match in Havana the following weight divisions will compete: 52, 60, 69, 81 and 91 (kilos), with the novelty of seeing Emilio Correa (75), silver medalist at Beijing, substitute for the double world champion Julio Cesar La Cruz in the 81 kilo category, while in Miami the divisions are: 49, 56, 64, 75 and 91.