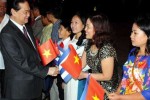 Vietnam's Prime Minister Nguyen Tan Dung today began an official visit to Cuba, on an invitation by President Raul Castro.
According to the Vietnamese Ministry of Foreign Affairs, Tan Dung's visit is aimed at strengthening the traditional ties of friendship between both countries, boosting economic and trade relations, expanding cooperation, and exchanging in international common affairs.
During his stay in the island, the visitor will have official talks with president Raul Castro and later will meet with vicepresident Miguel Díaz Canel and the Parliament's leader Esteban Lazo.
Tan Dung also will pay tribute to Cuban national hero Jose Marti, laying a wreath at the Memorial located in the Revolution Square.
The Vietnamese delegation comprises the vice president of the Vietnam-Cuba Friendship Association, Nguyen Thi Kim Ngan, and the president of the Parliamentary Commission on Nationalities, Ksor Phuoc.
Also on the list are Construction Minister Trinh Dinh Dung, Agriculture and Rural Development Minister Cao Duc Phat, Information and Communication Minister Nguyen Bac Son, Health Minister Nguyen Thi Kim Tien, and Industry and Trade Minister Vu Huy Hoang, as well as State Bank governor Nguyen Van Binh.
Before travelling to Cuba, Tan Dung visited the Nertherlands -attending an invitation by his Dutch peer Mark Rutte-, and participated in the 3rd Nuclear Security Summit, held in the Hague on March 24-25.
According to the agenda, after concluding his official visit here, the Vietnamese statesman will arrive in Port-au-Prince invited by his Haitian peer Laurent Lamothe.