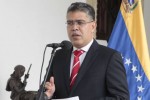 Foreign Minister Elias Jaua on Sunday thanked the member countries of the Southern Common Market (MERCOSUR) for their support for Venezuela's democratic system.
At the private Televen program "Jose Vicente Hoy," hosted by journalist Jose Vicente Rangel, the Venezuelan diplomat stated that "there is no room in Latin America for violent overthrows of governments, and the attack on democracy like the one on Venezuela, is an aggression against the region."
On Sunday's program, Jaua analyzed his tour of many MERCOSUR member countries and the allegations presented by Caracas at international organizations about the performance of rightwing groups that generate violence in several zones of the nation.
Those claims were presented at the Human Rights Council and the Secretariat of the United Nations, as well as to the president of the Southern Common Market, the Union of South American States and the Community of Latin American and Caribbean States.
Jaua noted that the government submitted those allegations to those organizations because "we are committed, obliged to the universal human rights system and its competent agencies, and we respond to them."
Over the past four weeks, Venezuela has been facing violent actions carried out by internal and external extreme rightwing groups that want to destabilize the country. As a result of those actions nearly 20 people have been killed, dozens have been injured and serious material damage has been caused.