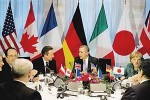 The United States and the European Union (EU) confirmed their total complicity, trying to isolate Russia.
After a bilateral summit in this capital, representatives of both sides ratified their aggressive stance against Moscow, unleashed by Crimea's decision to join the Russian Federation, after radical groups destabilized Ukraine and favored the assumption of power by an illegal ultra-right-wing Executive.
In a press conference, US President Barack Obama said the EU and Washington are together in their determination to isolate Russia and they are working with great coordination for that objective, as well as to help the new Ukrainian Government stabilize the economy.
European Council President Herman Van Rompuy said the allies of both sides of the Atlantic maintain "a firm and coordinated stance, unmistakably."
After the joint dialogues, the sides announced that faced with the sanctions against Moscow, they would begin the proceedings for a bilateral US-EU treaty that allows the latter to export natural gas to the bloc, with the purpose of reducing dependence from Russian energy.
Obama said that thanks to the agreement, it would be easier to take US gas to Europe and reduce the remarkable dependence of this continent from the Russian energy.
In his less-than-24-hour stay in Belgium, the US president visited earlier Flanders Field cemetery, where 368 US soldiers fallen in World War I are buried.
As part of the visit, a meeting with North Atlantic Treaty Organization Secretary General Anders Fogh Rasmussen is planned, also focused on the Ukrainian issue, according to reports.