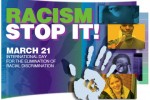 The United Nations condemned every act of racial discrimination, xenophobia and intolerance, and at the same time called political, religious and social leaders to follow the example of deceased South African leader Nelson Mandela.
In statements because of the International Day for Elimination of Racial Discrimination, high UN officials defended their ideal for a world without hatred and beliefs of superiority among human beings.
"Let us all remember in this celebration our first celebration without him, the corageous struggle and the victory on the apartheid, his inspiration to face the threatening of apartheid," said UN Secretary General Ban Ki Moon in his message for the ephemerides.
Ban said it is necessary a global commitment to combat racism, using the dialogue and the respect to people.
In a solemn session of the UN General Assembly, UN Sub-Secretary General Jan Eliasson said that eradicating the problem of racial organization is a priority for the UN.
"We frequently see attacks, violence, incitation to hatred against people because of their ethnical origin. We should avoid such behaviours and stop them from turning into open conflicts," Eliasson said.
UNESCO General Director Irina Bokova warned that equality and justice should lead the human behaviour in all circumstances, in her intervention.
"The mankind is one single family at all, with common aspirations and fates. Peace in the planet will only be possible if there is equality, dignity, in every man and woman, beyond their ethnia, religion, gender or socio-economic condition," said Bokova.
The International Day for Elimination of Racial Discrimination was established in 1966 by the UN General Assembly, in tribute to the 69 murdered people during an anti-apartheid demonstration six years before in Sharpeville, South Africa.