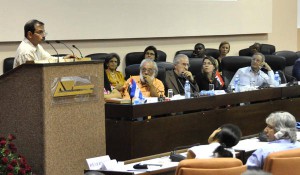 The Tenth International Symposium of Solidarity with the Cuban Five and against terrorism was closed this Friday, at the Convention Center in Havana, attended by some 300 delegates from 50 countries.
The meeting is part of the World Day for the freedom of the Cuban men who remain unjustly imprisoned in the United States for having fought terrorism. From September 4 to October 6, public activities will also take place in 47 countries, organizers said.
This initiative is focused on public denunciations of terrorism, while calling for the release of Gerardo Hernandez, Ramon Labañino and Antonio Guerrero. The men were arrested by U.S. authorities in 1998, along with René González and Fernando González for having prevented violent terrorist actions against Cuba that were being plotted by terrorist groups located in the United States.
Rene and Fernando returned to Cuba after fully completing their sentences, while the other three men are still imprisoned, despite the international campaign asking for their release and swift return to Cuba.
According to the schedule for the Colloquium, a panel consisting of relatives of the Cuban Five – as they are known internationally –gathered along with delegates to the event, to design new strategies and actions to continue the struggle for freedom of Gerardo, Ramón and Antonio.
The president of the International Committee of Solidarity with the Cuban Five, Graciela Ramirez, reported that on September 12, a vigil will be held outside the White House in Washington D.C.
She noted that the vigil will be replicated and accompanied by demonstrations outside the U.S. embassies worldwide.