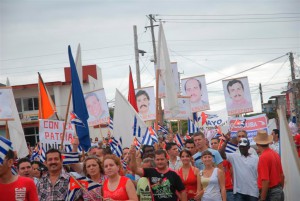 Members of the National Union of Jurists of Cuba (UNJC) in Sancti Spiritus, delivered a lecture "Sixteen years of injustice" at the local Pedagogical University, which was attended by students and professors, and by one representative of the foreign students in the territory.
Ibrahím Elizalde, president of the Sancti Spiritus Chapter In defense of humanity, of that institution, referred to case of the Cuban Five heroes, and explained about the "legal" arguments used in their process, which was very much politicised and riddled with irregularities.
This trial is classified as the longest and most corrupted in the legal history of the United States.
In his speech, in which he mentioned the 16 years imprisonment of the Five, next September 12th, and the ongoing world campaign for the liberation of Gerardo Hernández Nordelo, Ramón Labañino Salazar, and Antonio Guerrero Rodríguez, Elizalde said that international pressure on the White House is key factor.
President of UNJC in Sancti Spiritus, José Ineráriti, referred to the meetings held with Roberto González Sehwerert during his visits to this city, and highlighted his dedication as lawyer and brother of René, to the cause of the group, which he defended until his last days of life.
Foreign solidarity was made known by Saharawi student Mohammed Abdelahe, acting president of the Ernesto Che Guevara Brigade.
(Translation yet to be concluded)