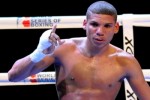 Sancti Spiritus boxer Yosbany Veitia faces Temirtas Zhussupov, of the Kazakh Astana Arlans, in search of his 5th victory in the World Series of Boxing (WSB).
The Cuba Wranglers team will try today to defeat its counterpart, the Kazakh Astana Arlans to secure first place in Group B, corresponding to the World Series of Boxing.
A win by any route would leave the Caribbean team with 24 points, already beyond reach for the Europeans, who arrived at the top of the classification for the match with 19 units.
However, the Arlans arrived in Havana with a very inexperienced group of boxers, and only Baghdad Alimbekov (56 kg) is seen as a favorite in the match.
Alimbekov has balance of seven wins and one defeat in his history in the WBS, and is to fight with the Cuban Marcos Forestal, substitute of the Olympic champion in London-2012 Robeisy Ramirez.
In statements to Prensa Latina, Forestal said that his goal is to defend Cuba until the the end.
"Now I am the number one in Cuba, and I will show it in the ring, both now and in the Central American and the world championships, if I go," he said.
The rest of the matches will be: Temirtas Zhussupov-Yosbany Veitía (49), Ruslan Madiev-Yasniel Toledo (60), Yerik Alzhanov-Ramón Luis (75), and Arbek Abduganiev-Erislandy Savón (91).
In addition to the event in Havana, this Friday, matches will be held between the Azerbaijan Baku Fires and the Russian team, while the Polish Hussars will face off against the Mexican Guerreros (Warriors).
Meanwhile, in the A category, Dolce & Gabbana Italia Thunder will face the Ukraine Otamans, the USA Knockout will fight Germany and the Algeria Desert Hawk Condors will meet Argentina.