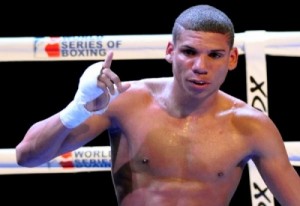 Veitia talks about his passions and desires in exclusive interview
(By Dayenis López Rodríguez and Yunier Sifonte Díaz*)
When Yosbany Veitía Soto wore boxing gloves for the first time, he couldn't imagine these equipments would lead his way in life.
The only 21-year-old athlete took part in the last two world boxing championships, as well as in the 2012 London Olympic Games, in which he showed his potential in one of the most important sports in Cuba.
The also bronze medal winner of the world competition in Almaty, Kazakhstan, is currently leading the Cuban Domadores team's 49 kg division to the IV World Boxing Series.
In exclusive interview to Escambray, Veitia talks about his passions and desires, and makes clear that behind his fists, there is a lot of the young man who makes Cuba vibrate with each of his wins.
How was the life of Yosbany Veitía before he got into the ring for the first time?
I always liked sports, particularly boxing, yet not for practicing it. I first began to practice judo, but there was a boxing ring by my house, and I used to go there very often to watch the practice. One day, I decided to quit judo. I was also encouraged by my relatives, who always said I would be a boxer because I was a very anxious kid. I was trained for sometime until I was admitted in Sancti Spiritus's Lino Salabarria Pupo Sport School (EIDE), when I was 14 years old.
Was it very difficult to reach the national team?
In my first competition —the National School Games— I lost with Robeisy Ramírez, and won the silver medal. Then I spent two years in the junior category. I didn't participate in any of the junior world championships, but during a competition in Cienfuegos, I was called for the national sport school (ESPA).
In 2010…
It was my first year in the national team, and it was a very successful period as well. I participated in the Pan American Junior Tournament, in which I won the gold medal. Then I got silver in the Playa Giron tourney, and gold in the V Cuban Sport Olympiad, and in the Giraldo Córdova Cardín Tournament. At present moment I'm the leader of my division, and hold a world bronze medal, which for me is like a gold medal indeed.
Who are your strongest rivals?
All rivals are strong, but I train myself to win. You can never feel confident about the victory; nevertheless, I keep a positive mind all the time. For me, Cuban Santiago Amador is one of the most difficult opponents, along with world champion Birzhan Shakypov, from Kazakhstan.
What about the most complicated tournament?
Nowadays, the best results of the sport are produced in Europe. Every European competition is strong. Last year's President Cup was the most difficult even for me, but winning is the most important thing, and I did it.
(…)
What do you usually do when you're not training?
I spend time with my friends and family. I like to be at home, and go to parties as well. I don't have enough time to make plans, that's why I do the best I can. I'm a very charismatic person; I say hi to everyone, and l love to make friends.
You've already tamed Azerbaiján's Baku Fires, and Mexican Guerreros, what's next?
Whenever I climbed into the ring I think about the people who's watching me, about my family, and that helps me. As for future championships, I will improve my performance. I always go for the win.
*The authors are students of journalism at the Central University of Las Villas.