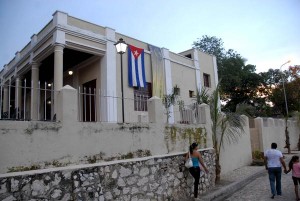 A regional meeting for local development and cultural life was dedicated to the 500th anniversary of the foundartion of the city of Sancti Spiritus, center of Cuba, to exchange experiences and present projects, with the attendance of experts from several provinces.
Sancti Spiritus Increases Constructive Actions to Celebrate its Half Millennium
In statements to the press, Doctor in Sciences Tania Garcia Lorenzo, from the Juan Marinello Investigation Center, said that culture "is just one more dimension of development.""This implies the whole society has possibilities, initiatives and creativeness.
As more sustainable we get to be, the more independent we will be, to be able to conduct the destinyof our own peoples, with a cultural vision of development," she said.
"That vision of culture may contribute to the development of every territory, with the generation of jobs, goods and services for the whole population," she added.
The event is attended by representartives from Havana, Las Tunas, Ciego de Avila, Villa Clara, Camaguey, Guantanamo and others.