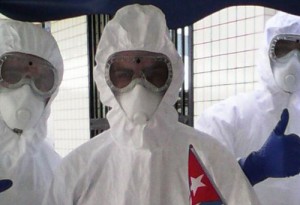 Over 500 health workers from the central Cuban province of Sancti Spiritus have voluntarily registered themselves to leave for African countries, in order to help in the eradication of Ebola.
Dr. Aris Fontain Espinosa, head of the cooperation department of the Provincial Health Management, told the press that the territory is already represented in the health team that recently left for Sierra Leone and Guinea Conakry.
Raul Castro Bids Farewell to Cuban Health Workers that Left for Liberia, Guinea Conakry
He also pointed out that over 2 000 local physicians and specialists are currently working in nearly 40 nations.
"While NATO and the U.S.A. send their army and aviation to kill civilians and to destroy cities in countries that don't surrender to their orders, Cuban army of white coats is dedicated to fight diseases and save thousands of human lives in the most remote areas of the world", Dr. Fontain added.