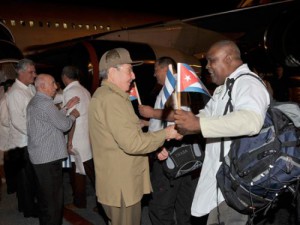 Cuban President Raul Castro bid farewell to a medical brigade that will fight the Ebola epidemic in Africa, mainly in western countries of that continent.
U.S. Might Cooperate with Cuba in Battle against Ebola
Alba-TCP Join Efforts to Reinforce Surveillance, Prevention against Ebola

The group includes 83 health professionals: 49 to Liberia and 34 to Guinea Conakry, two nations hit for years of poverty, which is favorable condition for the development of that terrible disease.
The medical brigade, comprised of 35 physicians and 48 nurses, ratified its commitment to provide services and comply with the established security measures, Granma newspaper stresses.
This contingent is made up of professionals with more than 15 years of experience, and 42 percent of them have fulfilled with this kind of mission two or more times.
The two brigades total 256 Cuban health professionals, who have left for West Africa to save lives, and Cuba complies part of its commitment with humanity.