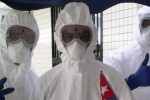 The United States is willing to cooperate with Cuba in the international struggle against Ebola in Western Africa, as confirmed on Wednesday to EFE by a spokeswoman of the State Department.
"We're delighted at the opportunity to cooperate with Cuba to face this Ebola outbreak," pointed out the U.S. official, who highlighted the "significant contribution" of the Caribbean nation with the sending of hundreds of physicians and health staff to Africa, the Cubadebate Web site reported on Wednesday.
Cuban leader Fidel Castro offered Washington over the weekend his country's cooperation in the face of the threat posed by the disease.
The deputy spokeswoman for the State Department, Marie Harf, didn't rule out on Monday the possibility of talks in this regard between the United States and Cuba, which haven't had diplomatic relations for over half a century, but said that she doesn't know if Washington is open to this.
U.S Secretary of State John Ferry also considered on Friday the effort made by Cuba, a country of 11 million people that has sent 255 health professionals to Africa.
"No country or groups of nations individually is going to solve the problem by themselves. This will require a global collective response. Let's get down to it!" has said the secretary of state.
"In that spirit, the State Department is in contact with all members of the international community, including Cuba, participating in this global effort by way of multilateral channels, like the World Health Organization, as well as of diplomatic meetings," added the aforementioned U.S. official.