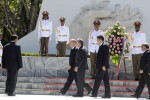 Cuban President, Raul Castro, welcomed his Russian counterpart, Vladimir Putin, with whom he held official talks at the Palace of the Revolution in Havana.
Before the official welcoming ceremony, Russian President placed a floral tribute in the monuments of the Soviet internationalist soldier and the National Hero of the Island, Jose Marti.
Russian President Vladimir Putin Arrives in Cuba
This way he paid tribute to all soldiers and officers who died on the island between 1962 and 1964 while they fulfilled their internationalist duty.
Putin was awarded the Order of José Martí, the highest distinction in the country, established in 1972.
Shortly after 05:30 local time, Putin was welcomed at the International Airport Jose Marti by the Cuban First Vice President, Miguel Diaz-Canel, and members of the Russian embassy in Cuba, among other officials.
During the official talks, the development of economic-commercial links, investments and prospects for joint projects in sectors such as energy, transport, civil aviation, the peaceful use of cosmos and health were reviewed.
Moscow and Havana will give especial attention to the steps to stimulate economic-commercial and scientific-technical cooperation, in the spirit of the Intergovernmental Program adopted until the 2020 period.
On the eve of his trip, in an exclusive interview to Prensa Latina in Moscow, President Putin stressed Cuba as one of Russia's strategic partners in Latin America, in a long-term relationship.
Russian-Cuban relations are based on a long tradition of unwavering friendship and an experience of fruitful collaboration, that is unique in many ways, said Putin when he made reference to more than half a century of bilateral ties and their exceptional nature.