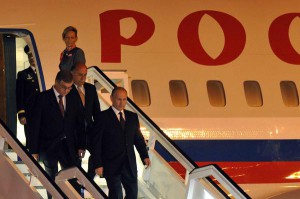 Russian President Vladimir Putin arrived in Cuba early this morning, as a first stop of an almost historic one-week tour of Latin America.
Putin was welcomed at the Jose Marti International Airport shortly after 5:30 local time, by Cuba's First Vice President Miguel Diaz-Canel, and members of the Russian embassy in Cuba, among other officials.
This is the second visit to the island since 2000. During his stay here, he expects to hold official talks with President Raul Castro, lay a wreath at the mausoleum to the Soviet internationalists, and pay tribute to Jose Marti at the Havana's Revolution Square.
Russia and Cuba will review the development of the economic-trade ties, investments and prospects for joint project in energy, transportation, civil aviation, the peaceful use of cosmos, and health.
Putin's tour also includes Argentina, tomorrow, and Brazil, July 13-16, to attend the Sixth Presidential Summit of the BRICS Group in Fortaleza, where Putin will talk with other Latin American leaders.
Just before his trip, Putin singled out Cuba as one of Russia's strategic partners in Latin America, he exclusively told Prensa Latina in Moscow.