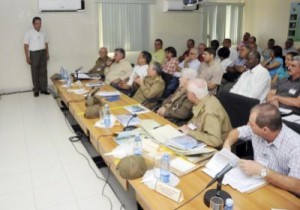 Cuban President Raul Castro described  the Special Development Zone at the Harbor of Mariel, west of Havana, as the most important project being built on the island.
Lula da Silva and Raul Castro Visit Mariel Special Development Zone
Raúl and Dilma Inaugurated Mariel Port Terminal
Raul made his statement during an evaluation of the investment project as he was briefed on the construction of railways, thoroughfares, water-supply infrastructure, and the area dedicated to logistics, among other works.
The Cuban head of state said that the Mariel project is part of the defense of the country's economic future because Cuba cannot continue to depend on the export of a handful of products to achieve its development. "Here is the base for the economic takeoff that we need," he said.
He also praised the big effort at work and called for advancement after congratulating the executives and workers involved in the task.
The evaluation meeting was also attended by first vice-president Miguel Diaz Canel, Revolution Commander Ramiro Valdes, government vice-president Antonio Lusson, and other national and provincial government officials.