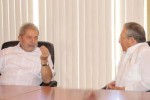 Former Brazilian head of state Luiz Inacio Lula Da Silva and President Raul Castro toured the Special Development Zone, under works at the Mariel Port, where the visitor described the project as the opportunity for an industrial revolution for Cuba.
During the visit to the project, which is being developed on a credit line granted by Brazil, Lula said he was happy because they have been able to share this moment with Cuba and he added that President Raul Castro is taking courageous decisions to modernize his country, "what we need to do is to break the US blockade of Cuba so that the country can full develop itself," he noted.
Meanwhile, Raul Castro referred to the work related to all legal aspects of the project in order to offer all activities on the site and favor investors.
During the tour, Cuban and Brazilian experts exchanged experiences on the use of different sources of renewable energy, such as biomass from sugar cane, as well as opportunities for collaboration in this area.