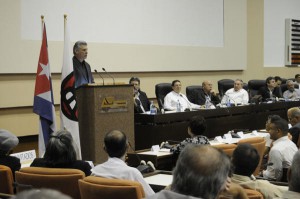 Cuba President Raul Castro attended the closing session of the 8th Congress of Cuban Union of Writers and Artists (UNEAC), in which Miguel Barnet was ratified as president of the organization.
Cuban Writers, Artists Discuss Education and Society Issues
The key speech was delivered by Miguel Diaz-Canel Bermudez, first vice-president of the Councils of State and Ministers.
Diaz-Canel highlighted the revolutionary and useful nature of discussions in the most important conference of the culture sector in the country, and called to continue doing it.
The also member of the Cuban Communist Party Political Bureau ratified that there is political will to monitor the agreements reached in this meeting and watch over their application.
The presence of several ministers in this session of the VII Conference of the Union of Cuban Writers and Artists (UNEAC) proves the Government's interest in proposals by the intelligentsia, he said.
In that reference, he said that personally, he had monitored the proposals at the conferences of young creators and journalists, and the Cuban university students.
We take those conferences into account, due to their contribution to the country, because they help us find smart solutions, but it is your responsibility to watch over their monitoring, he said.
He also expressed concern about the difficulties to apply the proposals presented at the conferences, although there is a creative consensus between the political and social actors.
Diaz-Canel recently spoke at the conference today, although he attended discussions yesterday that concluded late at night.
UNEAC was founded on August 22, 1961, with the objective of preserving the Cuban project of social justice and national independence, and currently has more than 9,000 members.