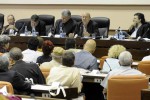 The role of culture in the education of the society is the center of discussions today at the final session of the 8th Congress of Cuban Union of Writers and Artists (UNEAC).
As part of the plenary session, 320 delegates from all over the country will passed the decisions of the four working commissions who reflected yesterday on the role of the media, the art, the cultural industries and markets, the city, the architecture, and heritage, among other topics of interest.
The introduction of the new UNEAC presidency, national associations, and provincial committees, as well as the granting of awards to personalities, are scheduled for this final session.
On Friday, Cuban intellectuals, who are gathered at Havana's Conference Center, also discussed about critics in the media, the quality of the radio and television programs, and the formation of values from culture.
Another topic that called the interest and reflection was the responsibility of the media in the individuals' manners and the creation of a more culture population.
In a statement to Prensa Latina, Cuban writer Abel Prieto, ex minister of Culture, regretted the decrease the country is experiencing in the reading of good literature or decolonized movie.