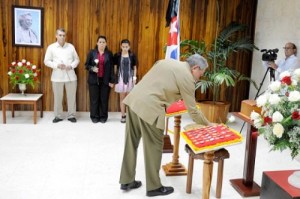 President Raul Castro paid tribute to heroine Melba Hernandez, who died on Sunday, March 9, and whose ashes are at the headquarters of the Ministry of Revolutionary Armed Forces.
On Monday night, the statesman laid a white rose in front of the coffin as a tribute to the combatant, who was one of the first one in joining to the rebel movement, led by the historic leader of the Cuban Revolution, Fidel Castro, with the objective of freeing definitively Cuba.
Cuban Heroine Melba Hernandez Passes Away
Many national and international distinctions Hernandez earned, among them, the honorary titles of Heroine of the Republic of Cuba and Outstanding Worker, were placed next the coffin, Granma newspaper reported.
Raul Castro also asked for keeping a minute's silence to honor the renowned woman and, immediately after, he offered his condolences to her relatives, who thanked the gesture from the country's top authorities.
Her ashes will be taken to the Santa Ifigenia Cemetery in the southeastern province of Santiago de Cuba, where the people of that region could honor her.