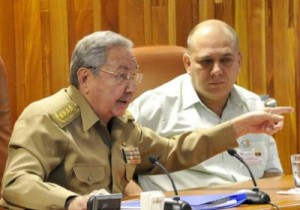 Cuban President Raul Castro called to make a critical and constructive analysis of the process to implement the measures that are part of the update of the country's economic model.
We are progressing and we will continue to progress, but without acceleration, stressed the president at the meeting of the Council of Ministers held last Saturday, Granma newspaper reported on Monday.
What we are doing is not perfect, sometimes we lack experience in some issues and we commit errors; that is why, every issue has to be submitted constantly to critical observations, he noted.
The Cuban president added, "We have been accustomed that instructions come from above and that must change. The administrative bodies, from Sandino municipality to that of Maisi, must express opinions in the appropriate place, at the right time and in the correct manner."
At the meeting, the Council of Ministers approved policies to improve geological research and the development of the National Cadastre, as well as a new group of non-agricultural cooperatives that will function as an experiment.
In that regard, the deputy head of the Permanent Commission for Implementation and Development, Leonardo Andollo, noted that the policy submitted to the Council of Ministers is mainly aimed at generating and promoting geological knowledge about Cuba.
All this is aimed at increasing resources and reserves of mineral raw materials demanded by the productive sector, contributing to making better use of them, and minimizing environmental impacts and the incidence of geological processes on health.
Next, the head of the Permanent Commission for Implementation and Development, Marino Murillo, explained the current situation of the process to create non-agricultural cooperatives in the country and proposed four groups of them.
In that regard, Murillo referred to the 228 new cooperatives and said that they will operate in the sectors of commerce, gastronomy and services (186), construction (12), transportation (3), industry (15) and food (1), adding that others will function for the first time in the sectors of energy (1) and accounting services (6).
Regarding the creation of non-agricultural cooperatives, Raul Castro recalled that it is an experimental process and although progress has been made, the main goal is to detect possible flaws and to correct them.
At the same time, the actions to counter the consequences of errors being committed in the investment process and the results of the 8th National Follow-up on domestic control were analyzed as well.
Other issues discussed at the meeting were the plans for ninth-grade graduates to continue their studies and enrollment in Higher Education, daytime courses and by meetings during the 2014-2015 period.
On the plans to improve medical services, Raul Castro assured that the Cuban people's healthcare will never be affected, and recalled how during all these years, the Revolution has graduated dozens of thousands of physicians following the ideas of the leader of the Cuban Revolution, Fidel Castro.