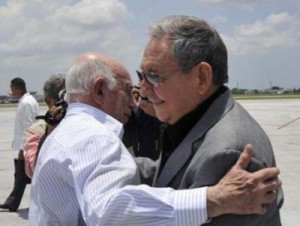 President Raul Castro returned to Cuba after two working days at the Special Summit of the Group of 77 (G-77) plus China held in Santa Cruz de la Sierra, Bolivia.
The statesman also participated in the Plurinational Social Meeting of Peoples, held at the Tahuichi Aguilera Stadium of that Bolivian city, prior to the Summit of the G-77 plus China.
Morales to Propose G-77 Participation at Bolivian Trade Fair
Evo Morales Highlights Significance of G-77 for Bolivia
G-77 Summit: Raul Castro Warns About Subversion, Destabilization
He also spoke at the plenary session of the Summit, and held bilateral meetings with many world leaders.
Upon his arrival yesterday, Raul Castro was welcomed at the "Jose Marti" International Airport by Vice President Jose Ramon Machado Ventura and Interior Minister, Lieutenant General Abelardo Colome.