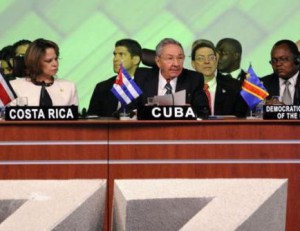 Cuban President Raul Castro denounced today the increasing promotion of illegal, covert, subversive actions, as well as the use of cyberspace to try destabilize countries that do not accept interference or domination.
In this way, any nation can be target of cyber attacks aimed at building distrust, destabilization and potential conflicts, said Raul Castro in his speech during the plenary session of the Summit of G77 plus China.
Evo Morales Highlights Significance of G-77 for Bolivia
"As we have denounced, the promotion of illegal, covert and subversive actions is ever increasing, as it is the use of cyberspace to try destabilizing not only Cuba, but countries whose governments do not accept interference or domination," said the Cuban leader.
"Today the most clear case is Venezuela, against which the most sophisticated means of subversion and destabilization are being employed, including coup attempts under the conceptions of non conventional war that the United States apply today to overthrow governments, subvert and destabilize societies, he said.
"That threat against '60 or more dark corners of the world' made by US President George W. Bush, obviously referring to all countries of the G77, still ring in our ears," said Raul Castro.
He recalled that for over 50 years Cuba has been a victim of genocide through the US blockade and terrorist actions that have cost thousands of lives and caused heavy damages.
He said that the absurd inclusion of Cuba in the list of "Countries Sponsoring International Terrorism" is an affront against our people.
But he noted that "however, through all these years the firm solidarity of the members of the G77 plus China have always accompanied us, which I appreciate on behalf of the Cuban people."
The Cuban president said we must be in solidarity with those threatened with aggression.
"We take this opportunity of the 50th anniversary of G77 to renew our common commitment to join efforts and close ranks to build a better, more just world," he concluded.