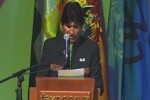 President Evo Morales said today that the Summit of the Group of 77 plus China, will serve as experience in his struggle for the good of the Bolivian people.In his opening speech of the plenary session of the summit, at Fexpocruz exhibition center, in this city 900 km from the capital, Morales thanked heads of State and delegations for their presence.
"We are very happy with your presence here and are very confident of this body," he said before giving the floor to visiting speakers.
Morales urged participants "to share management experiences and social policies implemented in each country" and admitted that this summit "is a great lesson to me. I have learned from the indigenous movements and now I can continue implementing experiences for the good of the Bolivian people, for future generations, to work for a new world economic order to live well."
"We hope this effort has fulfilled the expectations of all the delegations," he said.
The G77 Summit opened yesterday night and was concluded today, on the 50th anniversary of the creation of the Group of 133 nations from Asia, Africa, Oceania, Latin America and the Caribbean.
Bolivia holds the presidency of G-77 since January, 2014.