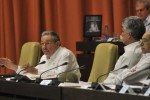 Cuban President, Raul Castro, attended the third regular session of the Eighth Legislature of the National Assembly of People's Power (Parliament), held at the Palace of Conventions in Havana.
Cuban Legislators Discuss Comprehensive Economic Issues
This is the second parliamentary appointment of this year, after the first extraordinary session that took place last March to approve the Law on Foreign Investment.
This third regular legislative session was preceded by working days -since July 2- headed by members of the 10 standing committees of Parliament, who discussed issues of economic, political and social interest.
The National Assembly of People's Power is the supreme organ of State power, it represents and expresses the sovereign will of the Cuban people and is the only body with constituent and legislative authority on the island.