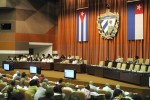 Some 608 Cuban legislators are informed today  about the work of the Ministry of Agriculture, prior to the Third Ordinary Period of the Seventh Legislature of the Parliament which convenes tomorrow.
A meeting with the presidents of 84 parliamentary friendship groups will also be held, said the Communications department for the National Assembly.
These meetings were preceded by two working days July 2-3 with the members of 10 permanent legislative committees, to discuss economic, political and social issues.
Legislators discussed the results of the efforts to supervise different entities, received information from corresponding agencies, and met with ministers and executives from a number of sectors.
They were also informed about the liquidation of the 2013 budget, the economic results for the first half of 2014, agricultural food production, the sugarcane harvest, and experiences of the Biocubafarma business group.
Reports on Cuba's promotion of renewable energy development projects and changes to the energy matrix that reduce dependence on imported fossil fuels, and achieve savings were also presented.
The state of the collaboration the island is offering to other countries, based on principles of unconditional solidarity, with due respect for sovereignty was analyzed as well.
Lawmakers received information related to the work of Cuba's customs agency, care for people living in the mountainous rural zones, and investment processes in many sectors.
Tourism service quality, the construction sector, telecommunications development, functioning of non-agricultural cooperatives, and challenges of the country's education system were discussed.
As for the country's accomplishments in the field of sports, executives from the National Institute of Sports, Physical Education and Recreation provided information related to Cuba's participation at the 22nd Central American and Caribbean Games, to be held this year in Veracruz, where the island's athletes will compete for medals in 338 of 446 disciplines.
Legislators received information about issues key to Cuban public health, including statistics on the current birthrate, fertilization, and terminated pregnancies.
They also analyzed the implementation of recent laws such as that of Maritime, River and Lake Navigation, Labor Code, and Foreign Investment Law.
A statement condemning Cuba's inclusion in the list of countries sponsoring human trafficking was approved, for distribution to parliaments worldwide.
Actions to achieve the return of Gerardo Hernandez, Antonio Guerrero and Ramon Labañino, three Cubans who have remained imprisoned in U.S. jails for the better part of two decades, were also agreed upon.