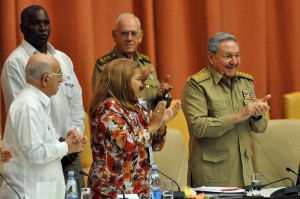 The 9th Congress of the Federation of Cuban Women (FMC), was closed this Saturday with the presence of Army general Raul Castro, first secretary of the Central Committee of the Party, and president of the Councils of State and Ministers.
We feel proud of our women, of our people, of what we have done so far, he said. He also referred to the progressive change of mindset regarding women's inclusion, gender equality and women's empowerment in Cuba since the revolutionary triumph on January 1, 1959.
In the keynote speech at the event, Cuban Vice President Jose Ramon Machado Ventura stressed the Cuban women's high level of participation and integration in the country's activities, and the importance of FMC in the eradication of negative social conducts by working directly with families and communities.
Machado Ventura added that the main task of the organization is to contribute to the defense of the Cuban Revolution from constant foreign attacks.
The leadership of the FMC, in which Teresa Amarelle was ratified as the organization's general secretary, was presented during the ceremony. She confirmed women's commitment to the country's leadership in the construction of socialism.
FMC members support the socio-economic update being implemented by the country to contribute to prosperity and sustainability of the defended model, she also stated.
Participants in the Congress called to continue the work for women's equal rights and opportunities, as well as for the defense of the country's social achievements, and acknowledged the historic leader of the Cuban Revolution, Fidel Castro, and President Raul Castro for their work dedicated to dignify women.
They expressed their solidarity with all women worldwide who are still demanding gender equality and full inclusion.
During the plenary session, FMC members approved the documents that will govern the work of the organization until 2015.
Prior to the Congress, which concluded on Women's International Day, the FMC members held debates at grass-roots delegations and municipal and provincial levels.