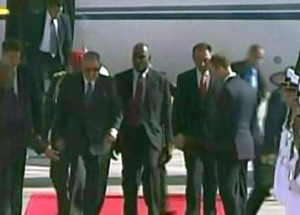 Cuban President Raul Castro arrived today in Venezuela, to attend the homage organized on occasion of the first anniversary of the passing away of Commander Hugo Chavez.
Upon arrival in Maiquetía international airport, in the Venezuelan State of Vargas, the Cuban president was welcomed by Hebert Garcia, vice-president for Territorial Development, and minister of Water and Air Transportation.
Venezuelan President Calls People to Honor Chavez in Peace
The activities agenda includes a morning civil-military parade along the Paseo Los Proceres, in Caracas.
(Taken from Prensa Latina, and translated by Escambray)