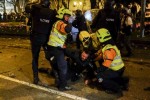 Spanish police arrested 24 people while the Civil Protection services reported that a hundred people with slight injuries were treated during the actions in the anti-government demonstration held Saturday.
The so-called Marches for Dignity across Madrid were demanding employment, more resources for public services, overturning of a bill restricting abortion, non-payment of the debt and the resignation of the government, among other claims.
Although demonstrations were held peacefully during daylight, at the end of the final stage of the rally during the evening at the Colon Square, groups of demonstrators clashed with riot police, who vacated protesters.
The Ministry of Interior reported that 50 police officers were injured and four were hospitalized, while Madrid authorities reported 24 people under arrest, including three minors.
Protests caused damage to public roads and some bank offices near the site of demonstrations.
The emergency services of Civil Protection reported that 101 people were treated, 67 police officers and 34 demonstrators with slight injuries.
Sources of the organizers estimated that more than two million people participated in the 35 actions that took place yesterday in various places of the city, although the police estimated that only 36,000 people attended Colon Square.
A declaration read out at the end of the rally describes the situation in Spain as very serious due to millions of unemployed people, thousands of homeless family units and the cuts in public services.