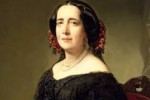 On the occasion of bicentennial of the birth of the Spanish-Cuban writer Gertrudis Gómez de Avellaneda, more than 105.000 people claim her posthumous appointment as member of the Real Academia Española (RAE), rejected in 1853.
Gertrudis Gómez de Avellaneda was the first woman proposed for the RAE and rejected because of her sex, and 100 years later was achieved by Carmen Conde, states the request.
The demand considered Gómez de Avellaneda the most important Spanish-Cuban writer of the 19th century and recalls that the poet, born in Cuba, also resided in Spain almost 30 years and wrote, published, and premiered here most of her poetic, novelistic and theatrical work.
The argumentation evokes that 20 years before being published La Cabaña del Tío Tom (The cabin of Uncle Tom), by Harriet Beecher Stowe, she was the first to write a novel against slavery, Sab, which talks about a polemic theme: love between a white woman and a black slave.
Her merits include 19 plays premiered in Spain and acclaimed by citizens and journalists of the time, nine novels and several books of poetry.
The petition exposed at change.org, a platform of online petitions, collected so far 105.809 firms of support and remains open.
Gertrudis Gómez de Avellaneda was born on March 23, 1814 in Port au Prince, current Camagüey, Cuba, and was buried in the cemetery of Seville, Spain, where she died on February 1, 1873.