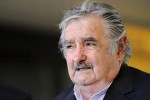 Uruguayan President, Jose Mujica, will be awarded with the Monsignor Leonidas Proaño Prize, delivered by the Latin American Association for Human Rights (ALDHU) to those who defend peace, justice and civil rights.
According to Juan de Dios Parra, secretary general of ALDHU, the prize will be delivered today by the president of the Association, Chilean Senator Juan Pablo Letelier, in a ceremony at the Uruguayan Foreign Affairs Ministry.
Angela Jeria, mother of Chile's elected President Michelle Bachelet will also be awarded due to her work helping exiles and refugees, victims of violence in several South American countries.
On the other hand, it was informed that Mujica and other Dignitaries will attend the swearing-in ceremony of Bachelet.