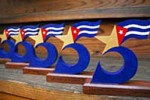 The International Committee for the Freedom of the Cuban 5 called to celebrate a campaign of denunciation and solidarity on June 4-11 in Washington.
Jurists, legislators, religious people, writers, intellectuals, union leaders and activists will arrange to meet in Washington DC to demand the release of those men, who since 1998 are in unjust captivity, when their real crime was defending their country from terrorism, the Committee said in a press release.
The denominated Third Campaign of denunciation and solidarity Five Days for the Five in Washington DC will include lectures by prestigious panelists, cultural events, and a peaceful rally in front of the White House, to demand the release of Gerardo Hernandez, Ramon Labañino and Antonio Guerrero, still in federal prisons.
Only two of them, Rene Gonzalez and Fernando Gonzalez, are in their homeland, after having completed their unjust sentences," the solidarity group recalled.
Participants in the rally will also urged for "the independent prisoners in Puerto Rico and other political inmates, and the end of the genocide U.S. economic, financial and trade blockade on Cuba," the text states.
Visits to the U.S. Congress with the participation of legislators from Latin America and Europe are included in the activities.
Voices from around the world and within the United States are coming together to demand President Barack Obama a change in the policy towards Cuba.
One of the key items of this increasing debate is to find a solution to the case of the Cuban Five, the International Committee stressed.
Among the figures who have expressed support to the 3rd Campaign are academician Noam Chomsky, actor Danny Glover, writer Angela Davis, poet Alice Walker, and Brazilian theologist and writer Frei Betto, among others.
The meeting in Washington DC is the second one of three important events this year: the first one was the International Commission of Inquiry on the case of the Five, held early March in London, and the other one a world meeting of solidarity to be held in Havana, Cuba, in October.