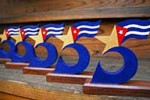 An international commission of jurists demanded that U.S. President Barack Obama pardon the Cuban antiterrorist fighters unjustly sentenced in the United States and release the three of them who still remain in prison.
Their release should be immediate and unconditional, according to the preliminary conclusions of judges who are investigating here the case of the Cuban antiterrorist fighters arrested in 1998 as they tried to prevent attacks on Cuba by terrorist groups.
According to the testimonies heard here, said the commissioners, none of them committed or tried to commit acts of violence or endangered the United States or its government.
They also stated that The Five, as they are known internationally, did not enjoy the basic human rights of a fair and clear trial by an independent and impartial court.
The Five were under a regime of solitary confinement for 17 months before the trial, and had no sufficient access to the documents related to their cause to prepare their defense, the commissioners noted.
They stressed that the trial was held in Miami, "where a fair trial could not be guaranteed," and emphasized the allegations about the payment made by the U.S. government to local reporters to publish prejudicial information against The Five.
The judges suggested that President Obama's pardon of the Five would have a significant impact on the normalization of relations between the United States and Cuba, as well as on peace and global justice.
The investigative commission was comprised of former Indian Justice Minister Yogesh Sabharwal, Zac Yaccob, former judge of the Constitutional Court of South Africa, and the judge of France's Court of Appeals, Phillipe Texier.